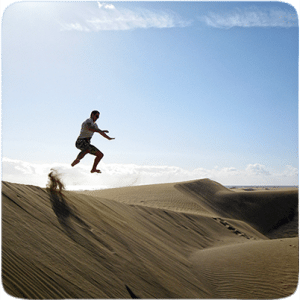 Adam
People say that future belongs to those who believe in the beuty of their dreams. My dream is to travel, to get to know various places on Earth, different cultures, local customs, foreign languages, special foods. I want to see unique animals and plants, icebergs and waterfalls, vulcanos and everything what was created here in the past zillion years until we destroy everything. For someone travelling might mean exotic beach, for others hiking in the mountains, cycling or skiing. We created "milujemcestovanie.sk" (I love travelling) to write down our experience, to share our journeys, photos and stories. We want to inspire others to travel and explore the world around us. And what is your dream?

Aiwa
I love travelling because it is the one activity on Earth which gives you complete freedom. You might mingle in the crowd in a foreign city and pretend you were born there. I do this from time to time, when I find myself in some awesome and beutiful place, I wander through the streets hiding my map and camera just to walk there. It is the best feeling for me. I always imagine how it might feel to belong there to dress like the others to speak their language or to live in that beautiful house. Getting used to new climate, eat local food with new friends. You might pretend that you are not yourself, you might become anyone. And why you love travelling?
Erika
When I am asked why I love to travel, I always shake my head in disbelief. That's simple, because I'm curious if the English weather is really so rainy, if California has always great weather, if all Australian guys are so hot, if Las Vegas' lights really shine as bright as on pictures, if Chinese only eat rice, if Argentinians dance Tango everywhere, if Manhattan's skyscrapers are as tall for real, if there are parties in Rio de Janeiro every single day, if I'll get to see a lion an an African safari, if they seriously eat bugs in Thailand, if the Hamptons are full of luxury cars, if dreams really come true in New York City, and if Italy has the best pizza in the world. I hope one day somebody will ask you the same question, then you will understand.
Maria
I love books, children, quotes and travelling. Love for books was inspired by my mum, because she is devoted reader. I inherited the desire for travelling from my dad who travelled most of the countries around the world. I had only chance to see some of the European countries (Spain, Belgium, Germany, Italy, Croatia, Hungary, Austria and Greece), Turkey, Russia, Egypt and USA. My biggest dream is to explore some of countries in far east or Latin America. And while I also love quotes, this is one of my favorite: During your travels you need a great fellow-traveller, at home a great neighbour.
This post is also available in: Slovak