The Hoodoos of Bryce Canyon National Park Are Like Nothing Else You've Seen. Bryce Canyon National Park was designated as a National Park in 1928 and is located in south-western Utah, only about 85 miles from Zion National Park. The name of this park is a little deceiving, because its main feature is actually not a canyon but a collection of giant natural amphitheatres.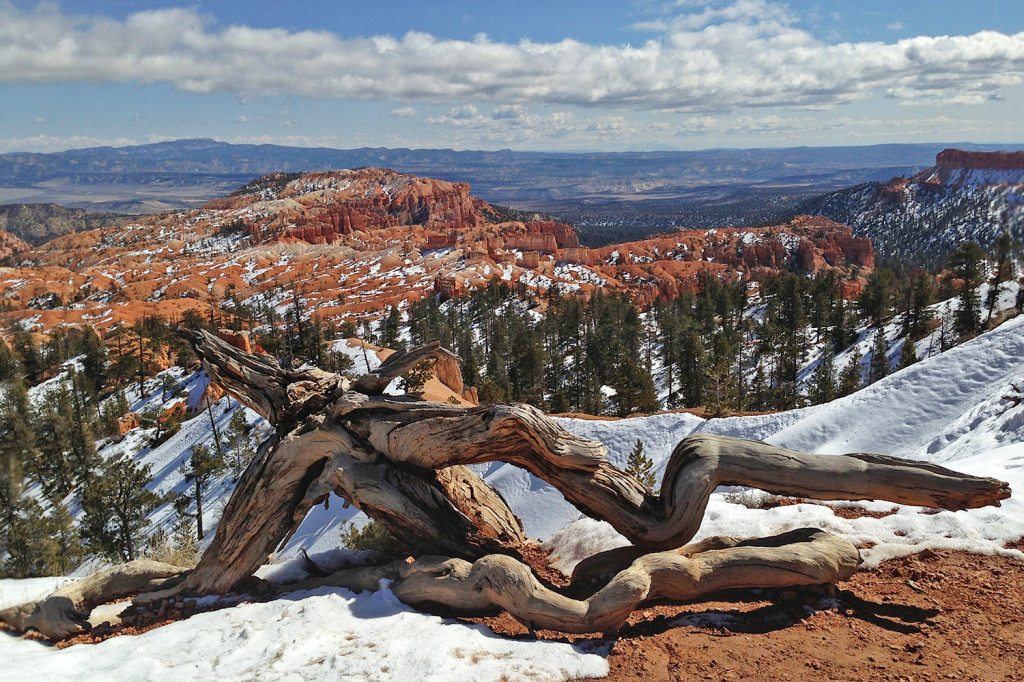 This area is distinctive because of a geological feature called hoodoos that were formed by frost weathering and stream erosion. The rocks are orange, red and white, which provides for some spectacular colors and views. The red rocks make this location look very sunny but don't be fooled, it can get very cold here because of the elevation ranging from 8,000 to 9,000 feet (2,400 to 2,700 m) and that is why you should always check the forecast before trying to visit the park. The park covers about 35,835 acres of land and despite its beauty receives relatively few visitors compared to Zion National Park or the Grand Canyon, but do not let that deter you, there is plenty of natural beauty to see.
Our visit to the park was somewhat lucky, because just a week prior to our trip, the park was not accessible due to snow. We went in early April and there was still snow on the ground but most of the roads and trails were open. The presence of snow offered some beautiful contrasts of the white snow and the red rocks; however, the park is also stunning during the summer months. Even though you can drive through the park and see most of the main attractions from the main roadways (including the natural arch), I would strongly recommend going on at least one of the hikes to get closer to the Hoodoos.
It is always helpful to ask the park rangers for a suggestion and they can help you pick the right trail for the time of the year as well as your skill level. We decided to go on the most popular trail – the Queens/Navajo Combination Loop, which is about about 3 miles long and takes approximately 3 hours to complete. It was a beautiful hike (with some changes in elevation making it slightly more difficult) that takes you into the Hoodoos and let's you explore the features of this geologic wonder from up close. I would strongly recommend going on this hike, as it takes you past some of the most famous rock formations including Queen Victoria and Thor's Hammer. You can most definitely explore this park in one day or even in less than a day if you only take one hike. So next time you are in Utah, make sure you plan a trip to go see Bryce Canyon National Park and Zion National Park. You won't regret your decision.
This post is also available in: Slovak